What??
Which is better: performing lots of reps at a light weight, or performing fewer reps with a heavier weight?
Some people (and magazines) have very strong opinions on this question and will tell you to do all of one or all of the other. In the past, magazines reported that in order to get "toned" and not "bulky", women should do lots of reps with a lighter weight.
So, what are power and hypertrophy?
The goal of power training is to improve force in your movements. It increases the size of your muscle cells. This is helpful for all skill levels and goals by preventing falls, preserving and enhancing physical functions, making everyday tasks more manageable for older adults.
I am using this woman as an example of a powerlifter because she is 61!!! and looks like an average person.
As a sport, powerlifting involves lifting the maximum amount of weight you are capable of for one repetition. Powerlifters train using heavy weights and low reps, focusing on core lifts and little cardio. Diet is not as strict as a bodybuilder, but still focuses on protein to feed the muscles and complex carbs. They usually have larger muscles but don't focus on definition. ***Keep in mind ladies, we can't get BIG muscles without "supplements" and bigger muscles stretch out the cellulite and extra skin - providing a "toned" look.***
Hypertrophy keeps your muscle cells the same size, but increases them in number. Training for hypertrophy involves increasing the weight and reps to promote growth.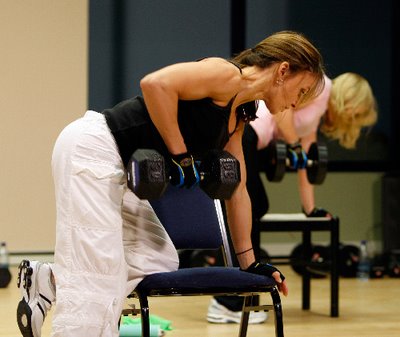 Benefits include increased strength, endurance, and bone density as well as improved appearance. Stronger muscles improve posture, provide better support for joints, and reduce the risk of injury for everyday activities. Older people can prevent loss of muscle tissue that normally accompanies aging and even regain some functional strength, becoming less frail. Weight training can stimulate the cardiovascular system.
Both types of training increase metabolic rate, which promotes long term fat loss and avoid unhealthy diets. Any exercise increases levels of dopamine, serotonin, and norepinephrine which helps improve mood and fight depression. :)
Personally, I say use both! Let them work together to give you the benefits of both.